Praise For Soaked Oats
"If you said they sounded like Mac DeMarco cruising around the South Island and playing loose pop in the back of a Britz camper you wouldn't be far off." – Vice Noisey 
"There's something infectious about their sound; it's happy, it's relaxed and a little bit cheeky." – Pilerats
"Bold colours and dancing beats cut nicely through the grizzly cold of the NZ winter, warming the bones with relevant words and pop/rock'n'roll rhythms." – NZ Musician
New Zealand's indie sludge-pop rockers Soaked Oats return to Australia this October for a run of three shows between Brisbane, Sydney, and Melbourne. After an extensive tour celebrating the release of their recent EP Sludge Pop, which saw the band play their first shows in the UK featuring a well-received debut at the Great Escape Festival as well as a sold out Australian tour, the band has decided to scratch the proverbial itch and see how they might fear in some grown-up venues.
Attention on Soaked Oats has been building at an ever-increasing rate since their inception two years ago in Dunedin, New Zealand catapulted by their infectious and joyful shows and fast-evolving songwriting chops. Last Australian tour in July,  the band were welcomed on-air by Double J and FBi radio alongside plays on triple j, Triple R and 4ZZZ in Brisbane.  Latest cover stars of the much lovedNZ Musician Magazine,  the band's latest single 'Coming Up' was discovered by indie rock goddess,Sharon Van Etten, who shared the music of Soaked Oats to her 90 thousand plus fans. Oscar Mein also had the opportunity to swap notes with one of his favourite artists, Kevin Morby, as published bythespinoff.co.nz and Radio NZ in his home territory.
Sludge Pop was recorded in part in Dunedin by Tom Bell at the iconic Chicks Hotel in Port Chalmers as well as with Patrick Hill at Roundhead Studios in Auckland. Production of the EP took place in Auckland at Paquin Studios (The Lab) by Tom Healy (Tiny Ruins, Miss June, Finn Andrews) and Soaked Oats. The EP was released mid-June 2014 after signing to Australian indie label, Dot Dash.
Download / Stream Soaked Oats – Sludge Pop EP: https://soakedoats.lnk.to/sludgepop
SOAKED OATS AUSTRALIAN TOUR
Thursday, 17th Oct – Brisbane – The Foundry
with support from Polygon Woods
Tickets From Oztix
Friday, 18th Oct – Melbourne – The Curtin
with support from Obscura Hail
Tickets From Oztix
Saturday, 19th Oct – Sydney – Oxford Art Factory (Main Room)
*Ticket Details To Be Released Soon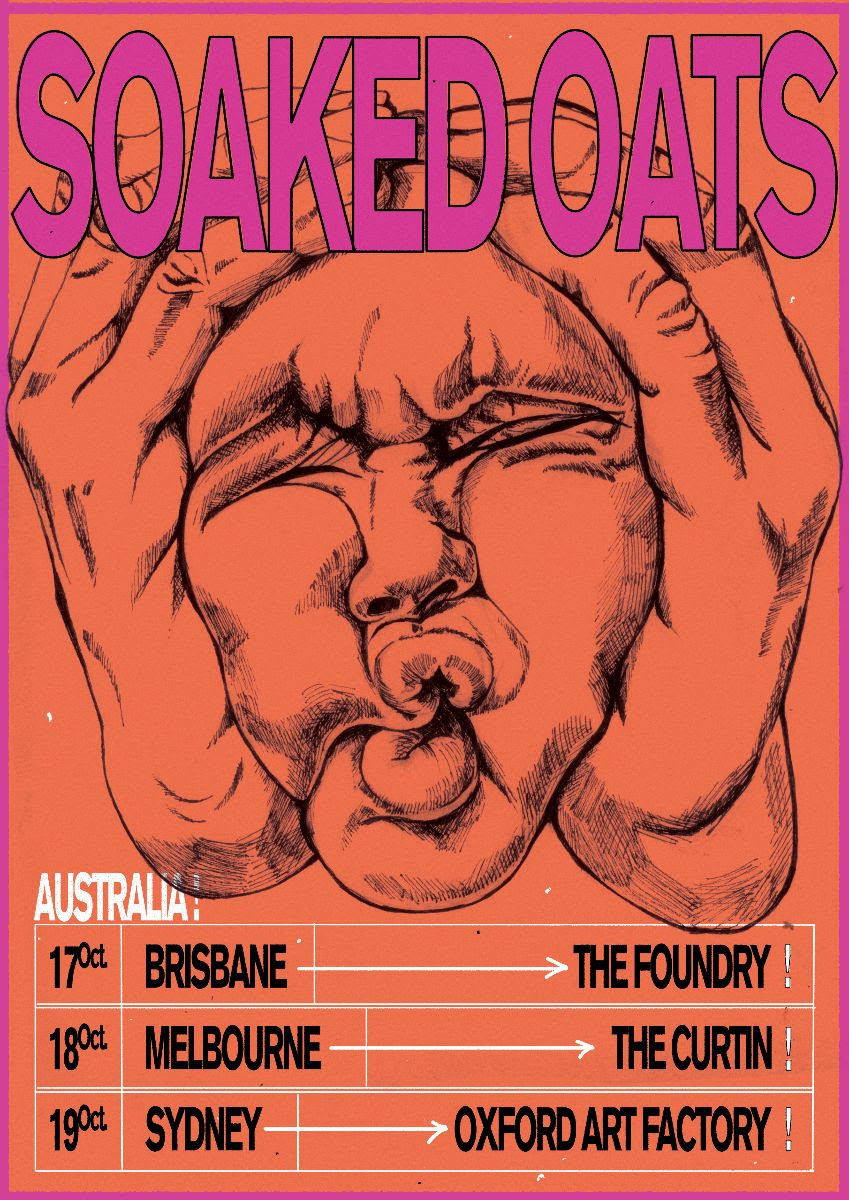 Soaked Oats – Sludge Pop is out now via Dot Dash / Remote Control.