PHOTOGRAPHY BY MASTU PHOTOGRAPHY
After weeks of teasing fans with new music online, XIII releases today his debut double A-side single "Hell Mary | Don't Leave Me Alone" (Island Records Australia/Universal Music Australia) – Available Here. The tracks are the first taste of Dan Sanders killer new project XIII (pron. thirteen) and the first from his debut album expected later this year.  
LISTEN TO "HELL MARY & (DON'T) LEAVE ME ALONE" HERE
The day David Bowie died, Dan Sanders didn't know where to turn. A lifelong musical hero, news of Bowie's death hit the singer-songwriter hard, and stirred similar emotions to those he'd felt when Kurt Cobain passed away. Upset and feeling lost, Sanders did the only thing that made sense: he grabbed a bottle and, through the tears, made music.
"I came to the studio and I've never done this before, but I wrote the song, all the instruments, in its entirety," he recalls. "I had the Telecaster plugged in, I was necking red wine, and that was musically a total Bowie thing. It absorbed me. I felt I was Bowie."
"But I've always got Kurt on one shoulder and Bowie on the other, and it's not heaven and hell, it's two cool dudes in my ears," he adds. "And when I'm doing stuff I check with them both, and if they're cool I just go with it."
The new song was one of more than 100 songs Sanders had written since 2008, but for which he was yet to find a home. He'd worked on them sporadically over the years, but after building his own studio in his backyard shed – dubbed The Cabin – in 2016, he found himself paying them more serious attention.
"I felt like I couldn't write anymore, because I'd keep listening to these same 10 or 20 songs," he explains. "I thought, 'I've got to get this out of my brain.' I had a realisation: I've got to write, but I was blocked up. What's blocking me? These songs. Get them done. Get them out there."
They were songs of despair, loss, hate, rage, isolation and drunken lust, the work of an artist desperate to evolve his craft. And some of them sounded like nothing he'd done before.
As a result, Sanders – best known as guitarist-vocalist for Perth rockers Gyroscope – opted not to use his own name, instead giving the fledgling project a name that was entirely its own entity, free of the preconceptions that come with being one of Australia's best-known frontmen; a name that said everything about him without saying anything at all. He chose XIII.
"I was born on Friday the 13th," he explains. "XIII is me. And by recording under a different name I found it gave me a different headspace, and more room to explore my dark side perhaps."
"(Don't) Leave Me Alone" opens with its frenzied acoustic intro giving way to a thunderous set of power chords then settling on a stuttering groove. The song is the opening track on the soon-to-be released debut album which was recorded at The Cabinand Perth's Blackbird Studios. Sanders played all instruments on both Hell Mary and Don't Leave Me Alone with Drew Goddard (Karnivool) laying down drums on the latter. Expect to see XIII hitting the live circuit very soon with dates to shows to be announced shortly.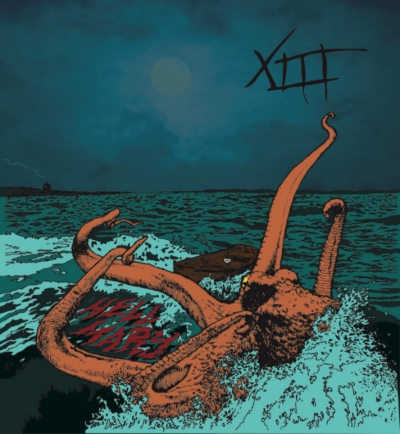 ARTWORK CREDIT:
Artwork by Ozzy Lister, concept by Dan Sanders
XIII 'HELL MARY | DON'T LEAVE ME ALONE' – OUT NOW
For further info on XIII you can check out:
 www.facebook.com/cabinxiii |https://twitter.com/cabin_xiii | https://www.instagram.com/cabin_XIII/ | www.cabinxiii.com