GOLD CLASS Share new single 'Rose Blind'Drum out Friday 18 August
After receiving rave reviews from their current Australian tour (including a triumphant home-town show at a sold out Corner Hotel), Gold Class have released their new track and video 'Rose Blind'. Premiered last night via Clash Magazine, 'Rose Blind' is the searing second single to come from their new albumDrum – out via Barely Dressed Records / Remote Control Records on Friday 18 August.
"Gold Class match the sheer overwhelming physicality of their sound to some intensely personal lyrics. Bass spasms and kinetic drums unite. Fans of The National or Interpol had best tune in." – Clash Magazine.
With a raging and all-consuming chorus, Rose Blind explores themes of personal and societal politics.Vocalist Adam Curley explains "We wanted to write something with a big, raging chorus. It's a love song, really, but a love song to a friend. It's about feeling that even though you don't know what the  future is going to look like, nothing can touch you because you'll get through it together."
'Rose Blind' is accompanied by a dark and ambiguous video directed by Defero Productions. Having trawled through car wreckers, making a sculpture with a few parts they found, Curley explained that "the idea was to examine skin and human figures against both brutal and soft materials in an uncomfortable way". Check it out below.
Drum is the bold second album from Gold Class due for release on August 18. Recorded at Melbourne's Head Gap studios / Tropical Fuck Storm Studios and produced by Gareth Liddiard of The Drones, Drumwill see Gold Class explore a new territory in both songwriting and sonics.
Commenting on the album title, vocalist Adam Curley says "Drum is primitive. It's physical. It's the beat of your heart. It's immediate. It comes from the past, but it also beckons to something in the future."
It holds other dualities, too – submission and authority; repetition and propulsion. And yet at its core, it's just something you can dance to.
"I wanted the album to be defiant, and full of skin and trouble and spit and love"
Pre-order 'Drum' https://goldclass.lnk.to/drum
Formed in 2014, Gold Class' string of lean, explosive live shows culminated in It's You – a distillation of the young group's wiry punk, carried by Curley's booming baritone and themes of personal politics, sexuality and identity. The album was shortlisted for the Australian Music Prize and saw them play sold out shows across Australia and London, local festivals Golden Plains and Splendour in The Grass, as well as international sets at SXSW in 2016, and The Great Escape, London Calling and Primavera Sound earlier this year.
Gold Class will play to a sold out room in Sydney this weekend, before heading to Perth and New Zealand for further headline shows. See details below.
Gold Class AUS/NZ JULY 2017
Saturday 15 July – Lansdowne Hotel, Sydney – sold out
Tickets here
Friday 21 July  – Mojo's Fremantle
Tickets here
Saturday 22 July – The Bird, Perth
Door sales only
Friday 28 July – Whammy Bar, Auckland NZ
Tickets here
Saturday 29 July – Caroline, Wellington NZ
Tickets here
Saturday 5 August – Castlemaine, Theatre Royal – sold out
with The Peep Tempel & RVG – Tickets here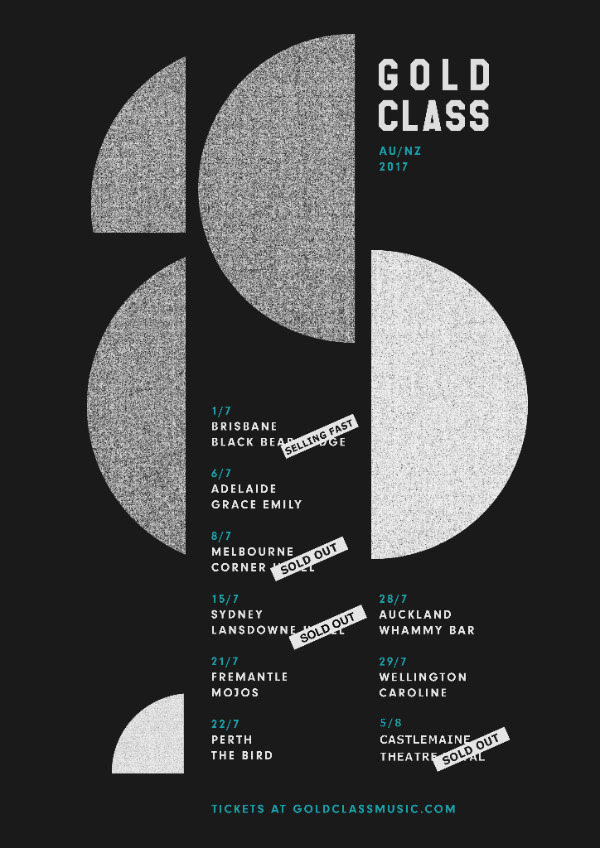 Gold Class – Drum is out Friday 18 August via Barely Dressed / Remote Control Records.