"Crocodyl-yes." – The Music
"…Crocodylus [are] one of the most unique bands in Australia." – Backyard Opera
"Crocodylus kick the energy up to 11…" – Happy Mag
"This band have fangs." – Tommy Faith, triple j
Raucous Sydney trio Crocodylus finally reveal their fan-focussed EP 'Enjoy' featuring focus track 'Motivation' out through The Chat's label Bargain Bin Records. The release comes alongside news of their signing to Xray Touring (UK) before they take their dynamic live show on a nine-date tour across Australia to showcase the release.
After befriending mullet-bearers The Chats on their national 'Pub Feed' tour in June the viral punks have chosen to release 'Enjoy' via their own label Bargain Bin Records cementing their reciprocal admiration. The Chat's lead singer Eamon Sandwith said of the collaboration "We're very proud to be releasing our good mates Crocodylus' EP on Bargain Bin this year. These guys did a few shows with us across Australia and they quickly became one of our favourite Aussie bands."
The seven-tracker will also be released on vinyl and feature singles 'Ghosts' and 'Adrenaline' plus countless tempo changes, grunge-tinged riffs and driving beats, 'Enjoy's unifying theme is right there in the title: "it's something for the fans, from us, the Crocs." Bassist and vocalist Josh continues "After touring with The Chats earlier this year we are so stoked they decided to chuck us on their label Bargain Bin. The EP has been a long process and were stoked to release new music."
Notorious for their lively stage show Crocodylus aren't ones to take time off the road and will be impressing their captivated fans once again on the 'Enjoy' Tour next week. From Brisbane to Hobart they'll be joined by post-punk outfit Israeli Chicks and steeze-filled grunge-punkers Pistol Peaches.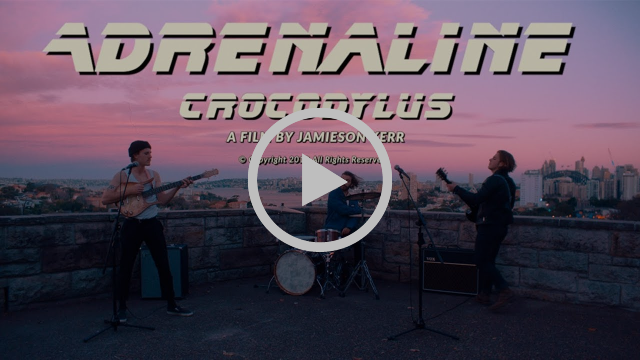 Crocodylus – 'Adrenaline' Directed by Jamieson Kerr
Crocodylus returned in May with the dynamic 'Ghosts' which was premiered on triple j's Home & Hosed and added to triple j unearthed and EDGE Radio. Their more recent release 'Adrenaline' caught the attention of General Pants and Wrangler and was added to rotation on FBi Radio.
They spent June traipsing the country with The Chats, playing their show-stopping set to sold out crowds every night and adding to their legions of fans. Their unpredictable live show has been honed on stages around the country, supporting the likes of Ocean Alley, Dune Rats, Hockey Dad and Psychedelic Porn Crumpets alongside a tri-headline tour with A. Swayze and the Ghosts and VOIID to kick off 2019. Crocodylus have also just been announced on Yours & Owls Festival this October and Lost Paradise over the New Year Period.
Last year saw the most acclaimed releases from the well-toured trio, even while only delivering two singles. The former, 'My Love' is a slice of vintage surf-rock indicative of the band's live shows and was well-supported with sold-out launch gigs at The Lansdowne in Sydney, and The Tote in Melbourne and came in at #14 on Happy Mag's Top 100 Songs of 2018. The latter, 'My Baby', is a 60's-style crooner and came out alongside a choreographed music video premiered by Triple J Unearthed and heralded by Life Without Andy as the #1 Indie Music Video of that year.
Filled with tracks born on the stage, 'Enjoy' will take you from the living room to the pit. Get a head start and grab tickets to the 'Enjoy' tour now.
CROCODYLUS
'ENJOY' EP
OUT NOW
via Bargain Bin Records
'ENJOY' TOUR
Thursday, 3rd October
Brisbane Hotel, Hobart
w/Israeli Chicks, Pistol Peaches
TICKETS
Friday, 4th October
Chopped Festival 2019
Guildford, VIC
w/ The Chats, Los Tones
TICKETS
Saturday, 5th October
Workers Club, Melbourne
w/Israeli Chicks, Pistol Peaches
TICKETS
Sunday, 6th October
Yours & Owls Festival
Stuart Park, Wollongong
w/ Courtney Barnett, Skegss, Bad//Dreems
TICKETS
Friday, 11th October
Marrickville Bowlo, Sydney
w/Israeli Chicks, Pistol Peaches
TICKETS
Saturday, 12th October
The Cambridge Hotel (Front Bar), Newcastle
w/Israeli Chicks, Pistol Peaches
TICKETS
Friday, 18th October
The Bowlo, Camden
w/Israeli Chicks, Pistol Peaches
TICKETS
Friday, 1st November
Crowbar Black, Brisbane
w/Israeli Chicks, Pistol Peaches
TICKETS
Saturday, 2nd November
The Northern, Byron Bay
w/Israeli Chicks, Pistol Peaches
FREE ENTRY
Saturday, 28th December – Wednesday, 1st January
Lost Paradise
Glenworth Valley, NSW
w/Matt Corby, Rufus Du Sol
TICKETS